TRAINING : SCAFFOLD, INDUSTRIAL HEALTH &  SAFETY
Coatsman provides Scaffold Training in association with Scaffold Training Institute, Texas USA and Safety Training in compliance of OSHA standards for people working in Construction, Infrastructure and Oil & Gas industries.
First Training course conducted on 16th August, 2011
Till date successfully completed : 350+ batches
Total certified crew : 8000+
TRAIN THE TRAINER PROGRAM
COATSMAN in association with SCAFFOLD TRAINING INSTITUTE (STI), Texas, USA, conducted a 3 Day TRAIN the TRAINER Program as per OSHA Standards to be certified as an INTERNATIONALLY recognized SCAFFOLD TRAINER.
A certified TRAINER is authorized to Train and certify scaffold Builders and supervisors as per OSHA Standards.
The training program was a 3 day course (2 Days Theory, 1 Day Practical and Written Examination) that entailed the following:
Three Day Trainer Course:
Module One is basic Competent Person training including overview of the 25 types of scaffolds in the OSHA regulations, and coverage of the OSHA requirements. It also covered recommended assembly procedures. The course agenda followed the manual including step by step assembly instructions and inspection checklists.
Module Two consisted of practical hands-on erection and dismantling of several types of frame, tube & coupler, and "system" scaffolds.
Module Three covered scaffold design & loading, including how to determine what size scaffold is needed, how to do scaffold drawings, how to calculate the scaffold material required, and how to calculate the weights on the scaffold planks, bearers, couplers, and posts (leg load). It also covered typical manufacturers allowable loading.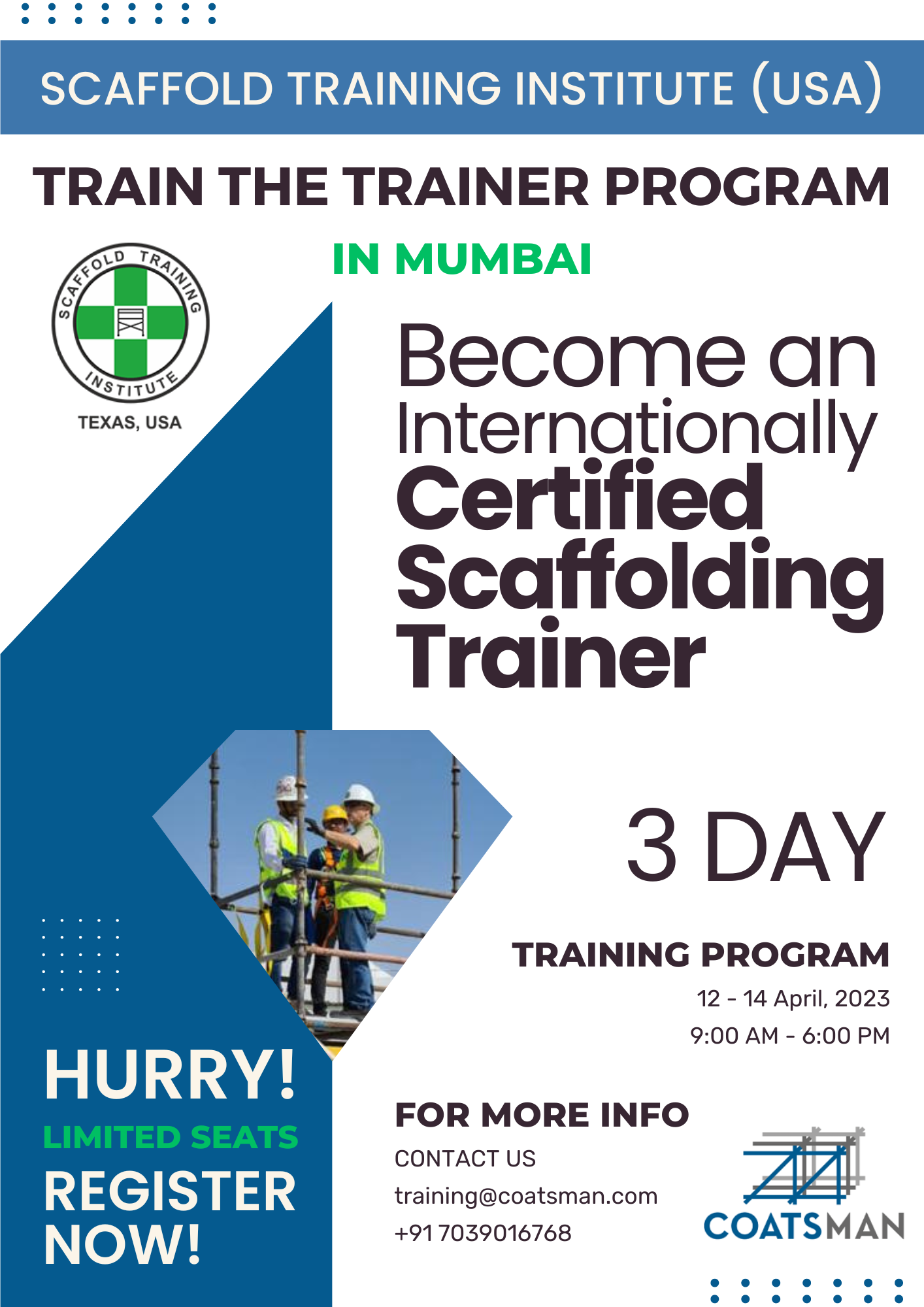 OTHER TRAINING COURSES:
SCAFFOLD BUILDING
SCAFFOLD INSPECTION / SUPERVISION
RIGGING & SLINGING
WORK AT HEIGHT
RESCUER
RESCUE PLAN PREPARATION
CONFINED SPACE ENTRY
FIRST AID
FIRE FIGHTING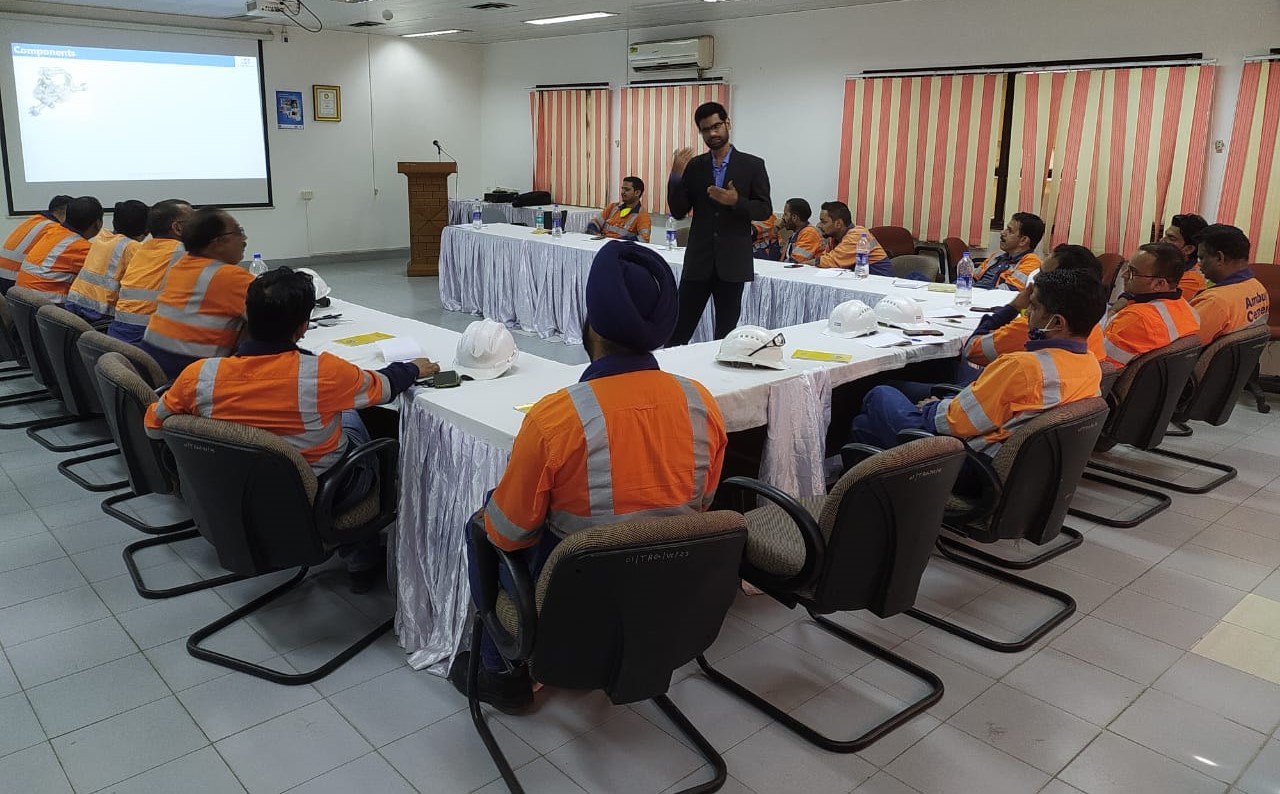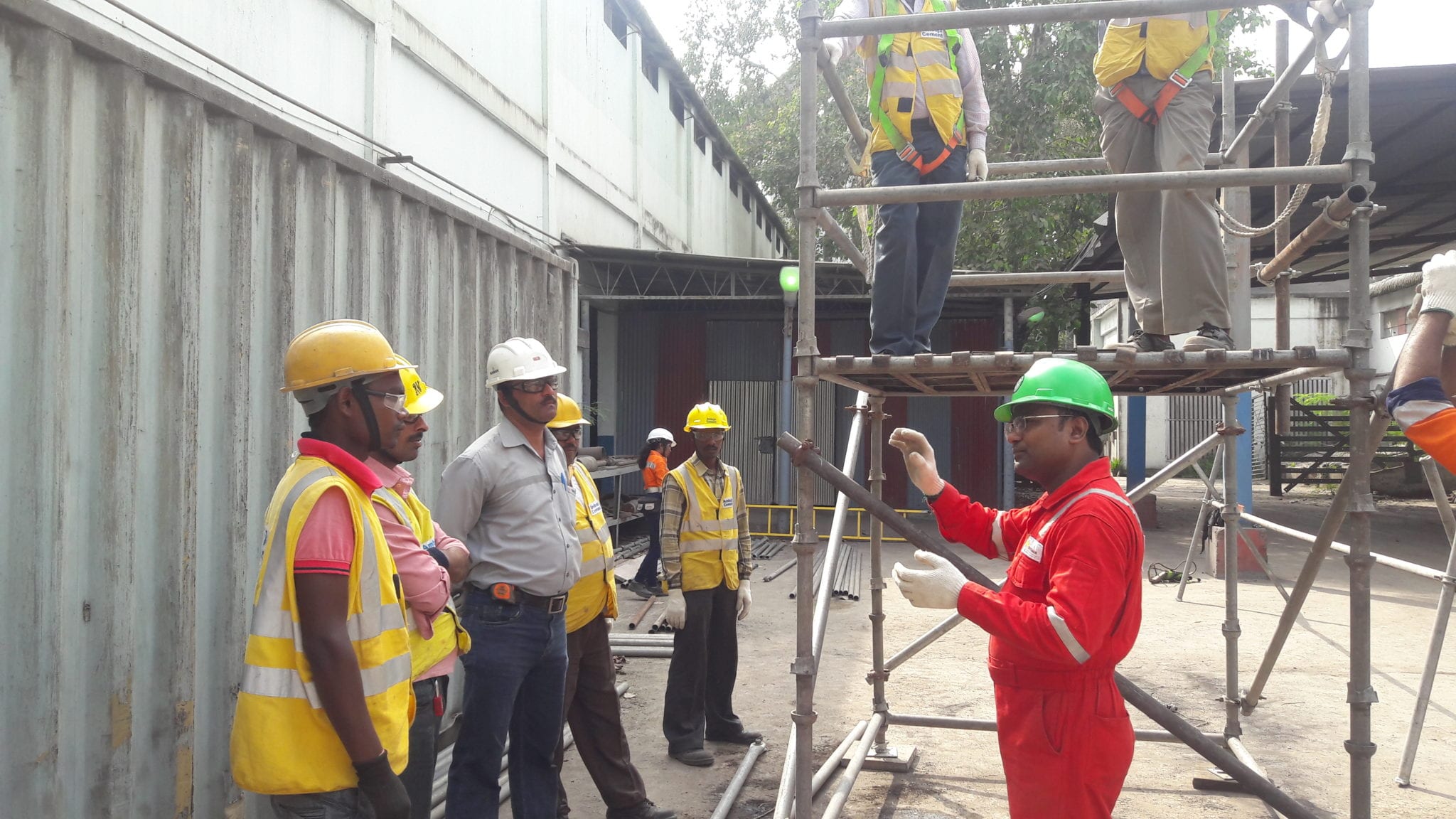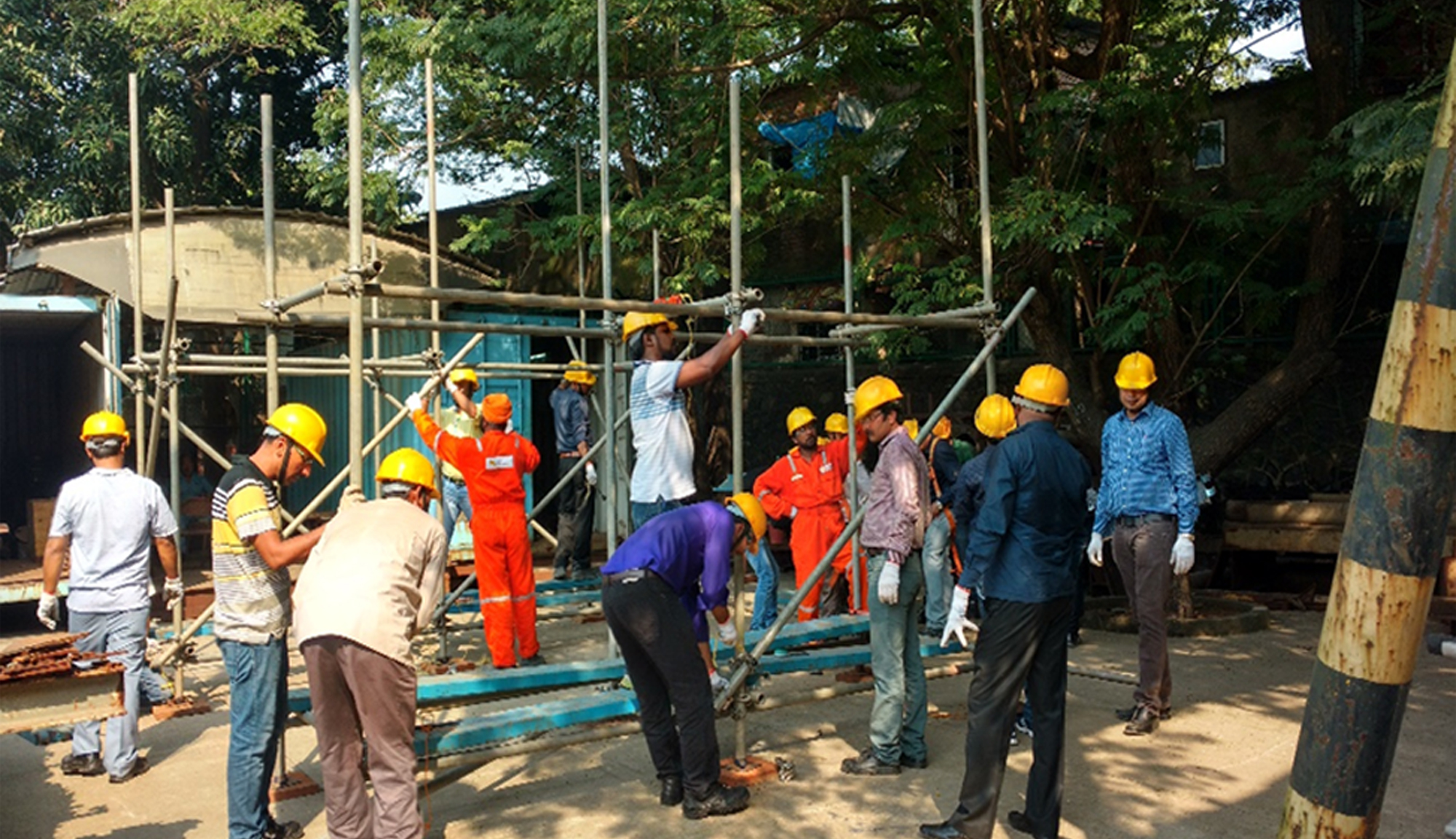 Certified Scaffolding Training
Osha 29 cfr 1926.454
Basic level: 4 day Training
Our Basic Level Scaffold Training course covers the following subjects: 
Introduction to scaffolding & various scaffolding standards.
Overview of OSHA and understanding terminology and basic requirements.
Theoretical & Practical learning of different types of scaffolds – Frame type scaffolding, System type (Viz. Cup lock, Wedge lock, Ring lock) scaffolding, Tube & Coupler scaffolding, Hung scaffold and Cantilever platform.  
Understanding the types & requirements of Bracing.
Understanding the types & requirements of Ties & Scaffolding Anchors.
Understanding the types & requirements of Access Systems.
Learn to prepare Bill of Material (BoM).
This training course will be concluded with assignments and assessment in theory and practical. 
TRAINING SUITABLE FOR:
Scaffolders
Workmen involved in scaffolding activities
Work Planners
Personnel from Plant Maintenance divisions
Procurement technical teams.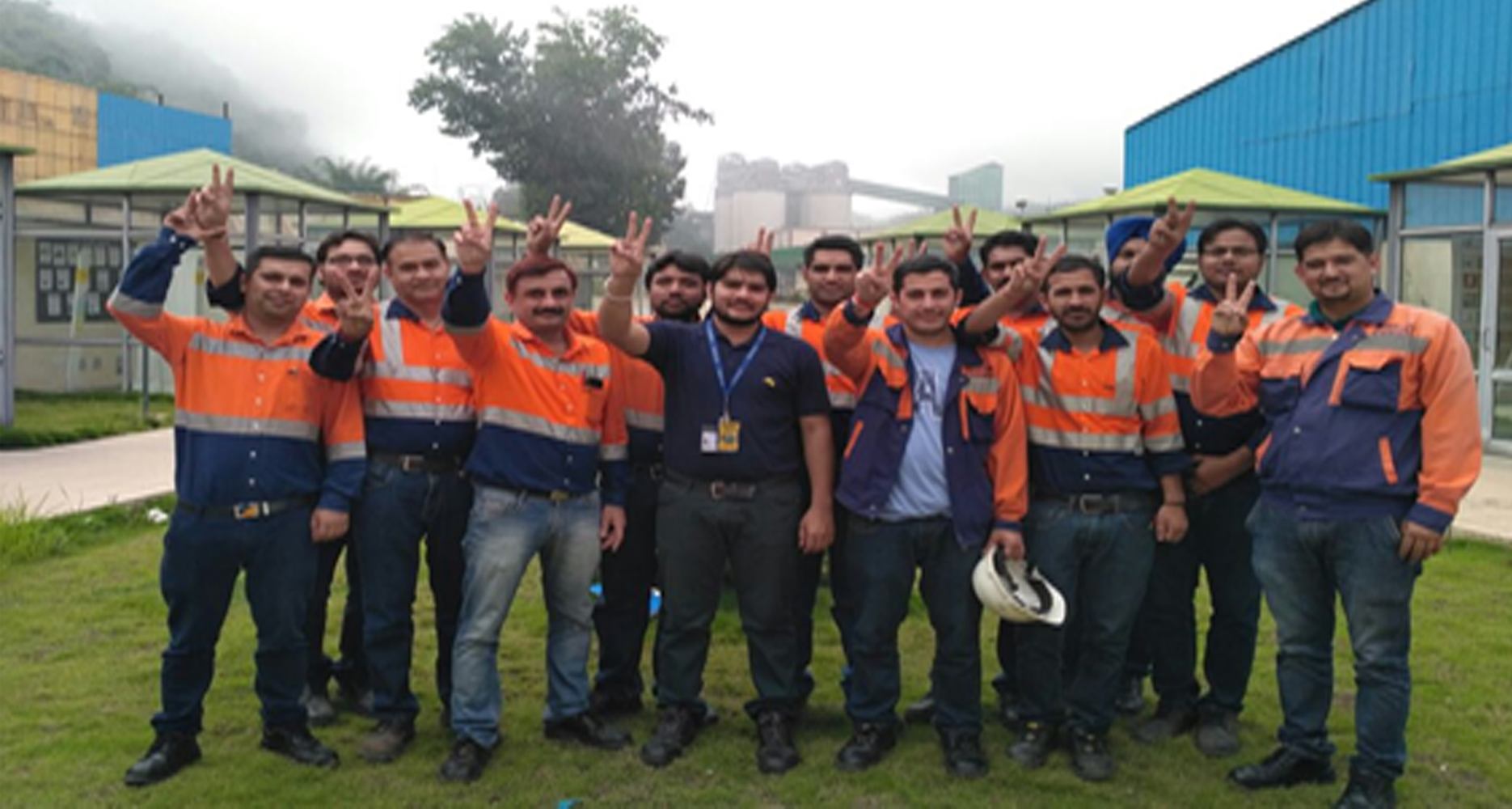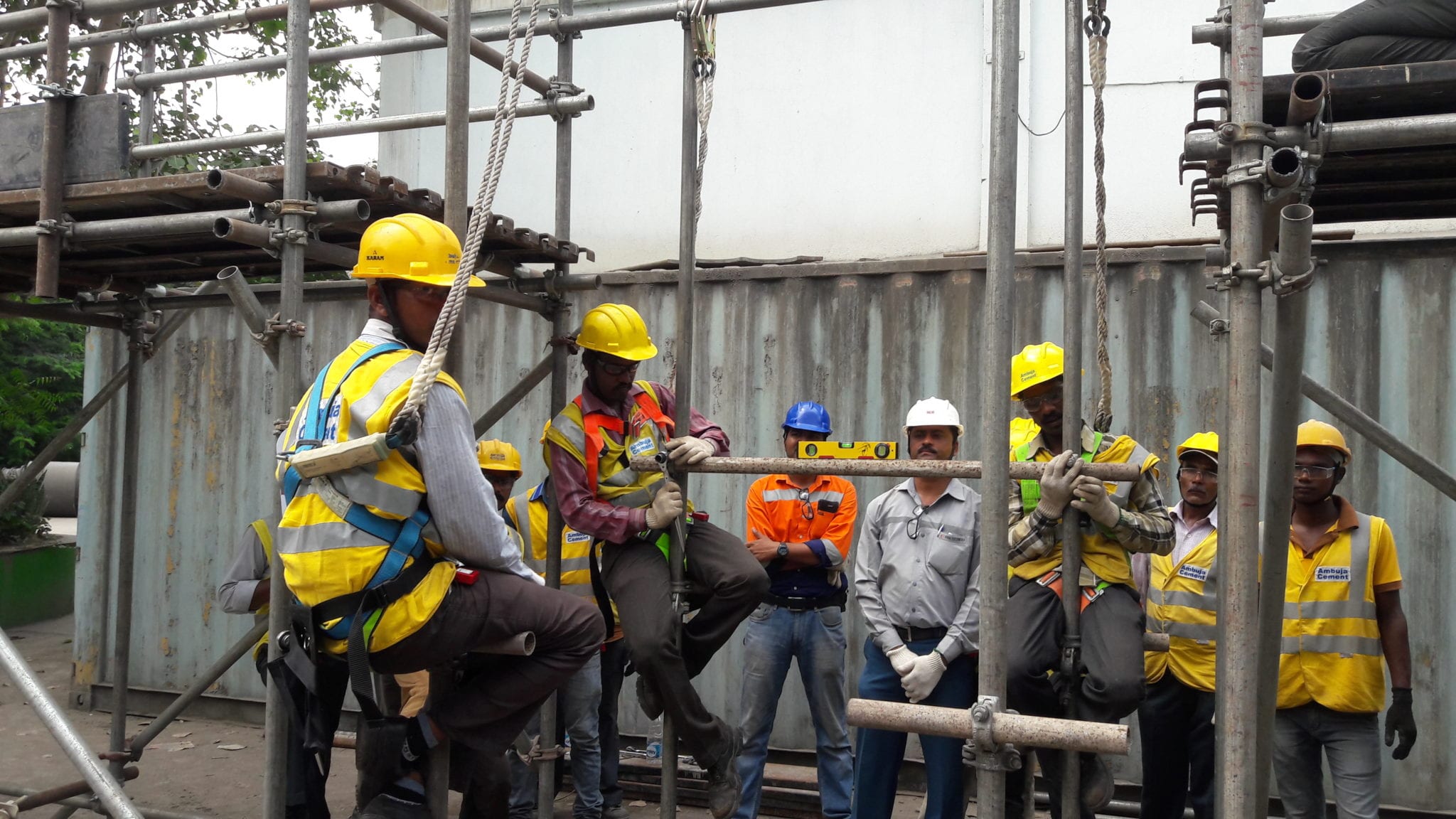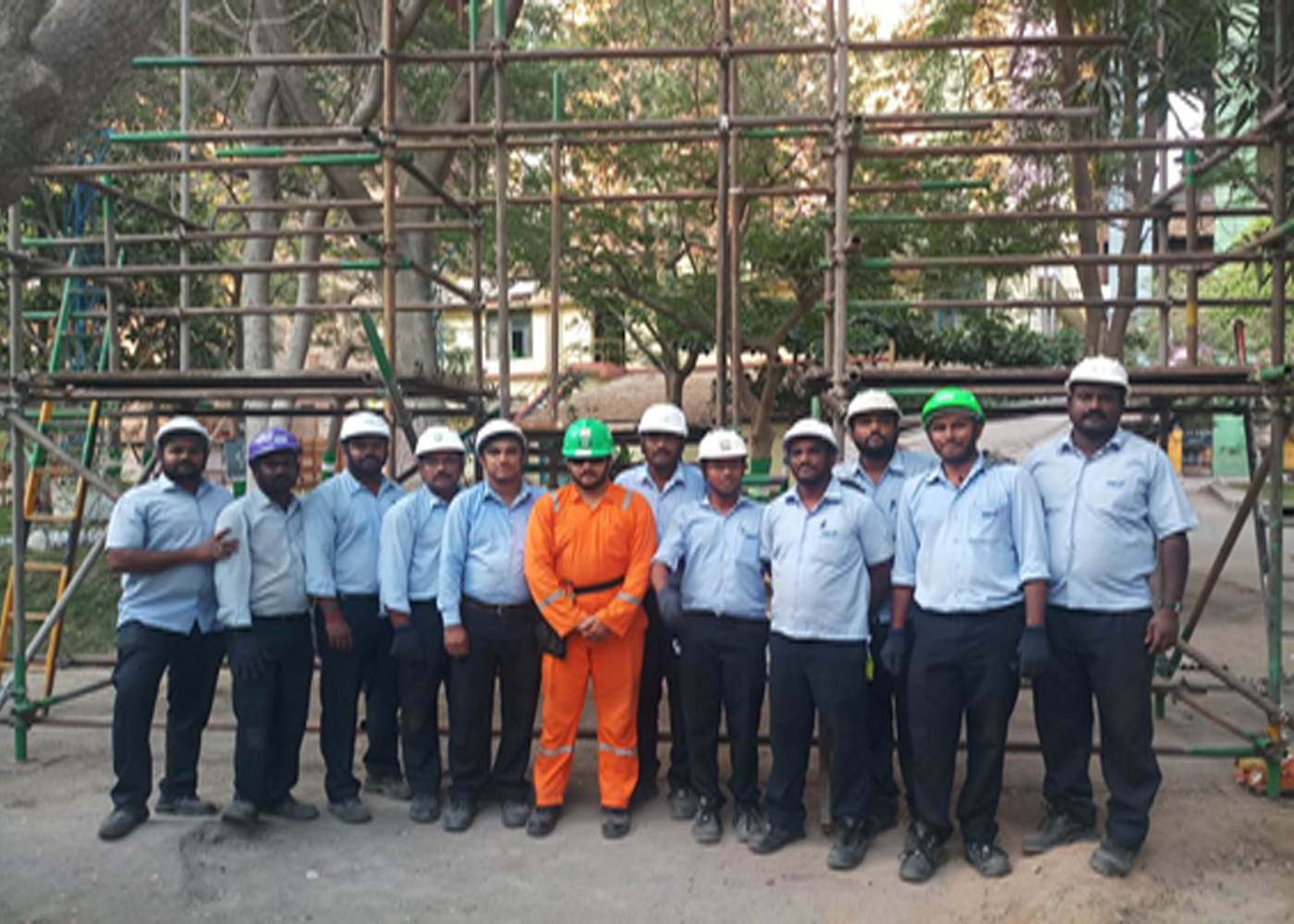 COMPETANT PERSON SCAFFOLDING TRAINING:
OSHA 29 CFR 1926.454
Advance level : 2 day Training –  after completion of basic course 
Our Advance Level Scaffold Training course allows participants to study the following topics:
Learn Scaffolding Design Principles.
Understanding Dead Load calculations and Live Load requirements.
Understand load distribution of scaffold and leg load calculations.
Prepares personnel with scaffold inspection checklist for onsite inspection visits.
This training course will be concluded with assignments and assessment in theory and practical with OSHA 100 marks assessment.  
TRAINING SUITABLE FOR:
Safety personnel
Site Engineers / Site supervisor / Site In charge
Scaffold Supervisor & Inspectors
RIGGING & SLINGING TRAINING
1 day Training
The Rigging and Slinging Training covers the following topics to equip participants with the understanding and know how of safe Material Lifting:
Understanding the duties & responsibilities of riggers.
How to use the various types of ropes, slings, chains and accessories.
How to calculate the safe working load (SWL) of any rope, sling, or chain to be used for lifting.
Selecting and using appropriate and safe slinging techniques.
How to safely sling loads of different weights and sizes and the rules to follow when handling different loads.
How to direct a crane or hoist operator in the movement of a load when the load is in or out of the operator's view.
Understanding of horizontal and vertical lifting.
WORK AT HEIGHT TRAINING
1 day Training
The Work At Height training is designed for Safety Officers, Site Engineers and WAH Rescuers. It provides participants with an in-depth understanding of the following topics: 
Introduction to work at height.
Understanding of Legal and Statutory requirements.
Understanding Hazards and associated risk.

Learning about the different equipment and PPE used for working at height.

Understanding safety requirements as per OSHA standards.
Learning about the different rescue plans and their preparation.
Understanding fall protection.
Understanding the effects of suspension trauma and post rescue casualty management.
Through this course participants will watch videos to understand work at height better.
Participants will be taken through case studies for better understanding and knowledge of working at height.
TYPES OF AVAILABLE TRAINING
WORK AT HEIGHT AWARENESS TRAINING 

WORK AT HEIGHT MONITOR TRAINING 

WORK AT HEIGHT RESCUER TRAINING

WORK AT HEIGHT RESCUE PLAN DEVELOPMENT & IMPLEMENTATION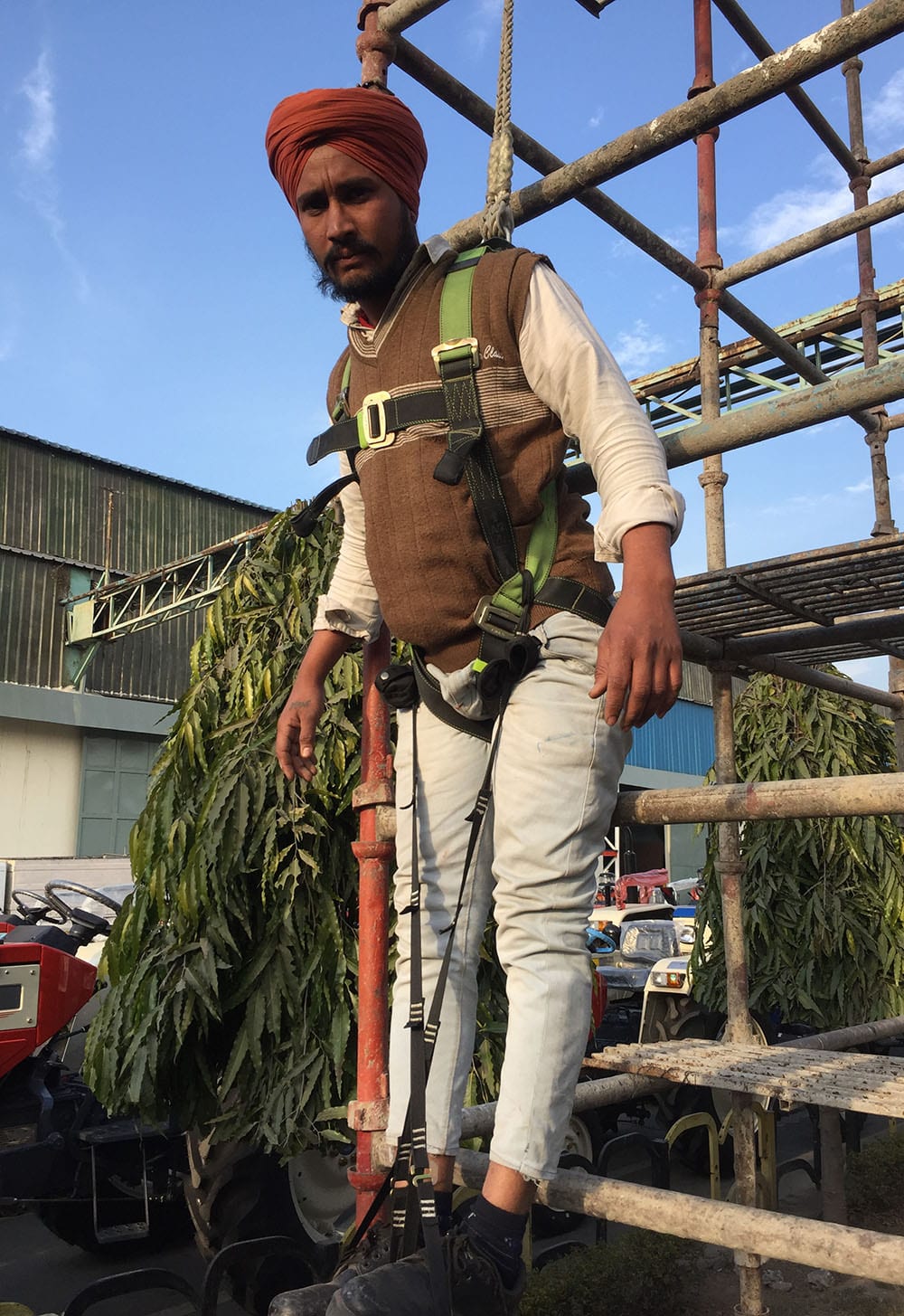 CONFINED SPACE SAFETY & RESCUE TRAINING
1 day Training
Our Confined Space Training is conducted as per OSHA 29 CFR 1910.146 Subpart J. Through this course participants understand the following:
Identification of Confined Spaces.
Responsibilities of Entrant, Attendant, Supervisor etc.
Ambient Monitoring such as: Oxygen, Toxic, Flammability.
Confined Space Entry Permit and legal provisions.
Confined Space Entry Procedure.
Confined Space Rescue and Emergency Procedure.
Participants will also be taken through Case Studies.
INDUSTRIAL FIRST AID & FIRE FIGHTING TRAINING
1 day Training
Understanding responsibility of a First Aider.
Understanding basics of Anatomy.
Learn about primary and secondary assessment of casualties such as loss of consciousness, respiratory arrest, cardiac arrest.
Develop Life Saving Skills and First Aid for wounds, bleeding, fractures, burns, poison, heart attack, suffocation and chocking.
Learn Cardio Pulmonary Resuscitation.
Learn about transportation of Casualties.
Understanding of fires, it's causes and spread.
Methods of extinguishing fires and the use of different fire extinguishing equipment.